Projects that benefit the community as approved by the Outagamie County Master Gardener Association will count as Volunteer Service Hours. The hours engaged in these Projects through planning, researching, and working on them count as volunteer hours. New and additional projects are welcomed.
For more details on projects below, click on specific project links.
Beautification of Outagamie County
MGVs maintain gardens and landscaping in on-going beautification projects and protection of the environment. These projects enhance visual aesthetics and add value to the landscape, and are a chance to educate the public on plant care, selection and identification.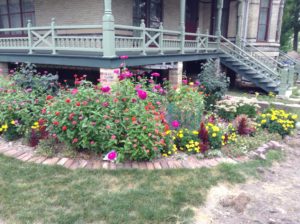 Rock the Block

– Sue Mings • Work with Habitat for Humanity targeting neighborhoods to work on improving the exteriors of homes. MGVs would help homeowners update plantings around their homes and cleanup of weeds and brush.
UW Ext Gardens

– Terry Barrett • Establish and maintain permanent gardens on the UW Extension grounds, open to the public to showcase our talents.
Volunteer Hours can be earned at other Public Gardens, Nature Centers & Schools in Outagamie County. This public volunteering does not need to be Sanctioned.
Increasing Food Security
MGVs work to address food insecurity through gardening, to help families gain knowledge and skills to grow some of their own food, and make direct donations to food pantries and other organizations.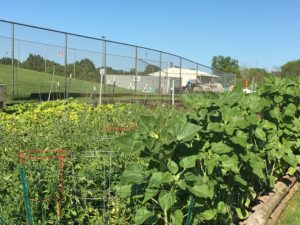 Produce Donations – Raise and donate produce for local food pantries serving the homeless and hungry. Must be individually sanctioned.
Thompson Center Gardens – Steve Verboomen • Assist Center members with planting and maintaining gardens, offering opportunities for horticultural education to the seniors, and supplying the Center users with home-grown produce.
Education of Community
MGVs educate the public on various gardening topics through presentations, articles and answering specific questions. Time spent on research, preparation and presentation, all count as Volunteer Hours.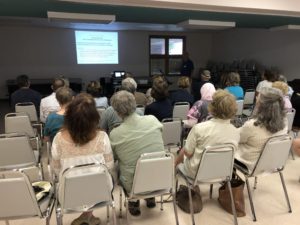 Appleton Farm Market

– Jodi DeBaker • MGVs staff a booth to meet and help people with horticultural problems, share gardening experiences and educate people about the OCMGA.
Gardener SOS

– Tom Wentzel • Answer gardening questions submitted through e-mail by the public and Master Gardeners.
Outagamie County Fair Booth

– MGVs staff a booth to meet and help people with horticultural questions and introduce children to plants by giving them a free starter plant for answering questions.
Make a presentation at a public venue on horticulture, landscaping, etc. Preparation and presentation time count for Volunteer Hours. No financial remuneration may be received. Use

Presentation Form

to sanction the presentation.
Education of Youth
Columbus School

– Shirley Martin • It is a place where students can grow a garden, harvest, and use vegetables. Classroom lessons are conducted, teaching plant parts, plant identification, and plant care.
Conservation Field Day

– Jill Botvinik • A three-day event for Outagamie County students to educate them about water, quarry, woods, pond & wildlife, food production, soils, gardens & compost, conservation, and recycling. This project is sponsored by the Outagamie County Land Conservation Department.
New and additional projects are welcomed. Service hours are earned through a new Sanctioned Project by planning, researching, maintaining, recruiting, presenting, or any other needs.
Submission of a project for consideration is through a Sanction Form found under Forms in the Member Resources.