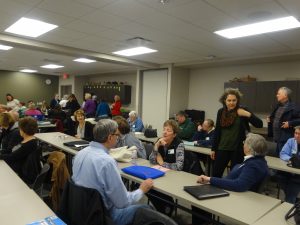 Becoming a Volunteer in the Outagamie County Master Gardener Association is an easy and worthwhile process.
The first step is to review our brochure* to fully understand the organization and the expectation of the volunteers; then complete the Master Gardener Volunteer classes. The weekly classes are offered annually, through the UW-Extension, at 3365 W. Brewster St., Appleton, from February through May. You must achieve at least a 70-percent score on the final, open-book exam. (*currently being updated – check back)
During the year of your classes, the curriculum will satisfy the required Education Hours as well as the 24 hours of Volunteer Service on sanctioned projects required each year by December 31st. As a resource, new members may take advantage of our mentor program, provided from within the ranks of our membership, if desired.
To register, complete this REGISTRATION FORM and email it to stoltzml@sbcglobal.net or return to the UW Extension office at 3365 W. Brewster St. The cost of $200, due upon acceptance, includes materials and annual dues.
To apply for an educational grant, please download and submit our application: Volunteer Training Grant Application
Recertification
Recertification is required annually to remain a Master Gardener Volunteer in good standing. To be recertified, attend 10 hours of continuing education and provide 24 hours of volunteer service. Submit documentation of hours to the UW-Extension by October 1stevery year. Hours are reported electronically on the UW website: https://wimastergardener.org/report-your-hours/
Additional information about the Master Gardener program is available on the Wisconsin Master Gardener Program website.